TXV 130 and 150 indexable
Description of the product :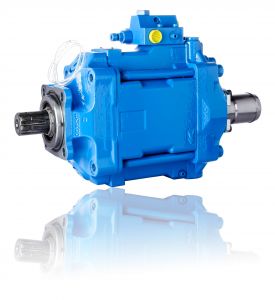 Available in 130 cc/rev. and 150 cc/rev. displacements, these pumps are designed to operate in both directions of rotation (clockwise or counter-clockwise). Only one reference regardless of direction of rotation. The TXV indexable pumps are an extension of the range of TXV variable displacement pumps available from 40 to 150 cc/rev.
Characteristics and advantages :
models of 130 and 150 cc/rev.
max. operating pressure of 365 bar depending on the model,
max. speed of 1750 rpm at full displacement,
dual direction of rotation simply by changing position of the setting screw,
inlet fitting supplied with the pump.
Applications :
truck equipment (handling cranes, forestry cranes, refuse trucks, spreaders and snow removal vehicles, and other public works equipment),
military,
agricultural machinery.