MV-MVA-MVSI series motors
Description of the product :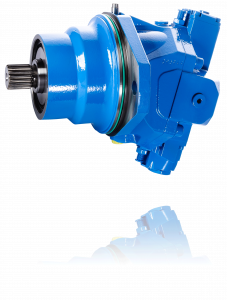 Of 7 or 9 piston design to ensure high starting torque and regularity even at low speed, with a working ratio of 5:1, the LEDUC variable motors are suitable for working pressures up to 400 bar continuous and 450 bar peak.
They are destined for medium and heavy duty applications in construction equipment and agricultural machinery.
Current models available are in displacements of 28, 85, 115cc/rev, in both ISO or SAE flange versions, and semi-integrated « plug-in » configurations.
Three control options exist :
HPA automatic displacement control, high pressure
H2N two speed hydraulic displacement control
E2N electric two speed displacement control
For other control options, please consult us.
As an option, these motors can be fitted with a speed sensor and/or a flushing valve.
Characteristics and advantages :
high efficiency,
displacement of 28, 85 and 115 cc/rev,
large setting range of minimum and maximum displacements,
suitable for closed or open loop systems,
reduced size envelope ; high weight-power ratio,
high rotation speed and operating pressure.
Applications :
construction machinery equipment (for examples: wheel drive, track drive, winches),
agricultural machinery,
forestry crushers,
mining equipment,
planetary gears (MVSI).
For the dimensions and the order code system, please consult our variable motors catalogue.