Fluid valve circulation FCV
Description of the product :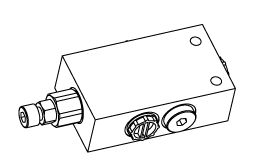 The FCV fluid circulation valve is designed for applications where the variable displacement hydraulic pump is used in stand-by mode for a long period of time (example continuous running PTO).
This valve allows oil to circulate in the pump, which prevents overheating.
the flow rate consumed by the FCV valve varies between 20 and 22 l/min for a stand-by setting of about 30 bar,
maximum pressure is 420 bar,
closing pressure can be adjusted between 2 bar minimum and 7 bar maximum.
For variable displacement pump TXV