Description of the product :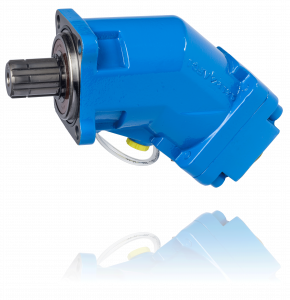 Hydraulic motors are of bent axis design with a 40° angle, they combine high performance and reduced size envelope.
The MXP/MXA motors can be used in either closed or open loop systems.
In displacements from 25 to 126 cc/rev for MXP series, and from 25 to 63 cc/rev for the MXA series (SAE version) these motors are designed for use in truck equipment and construction machinery applications, for intermittent service.
(For heavy duty applications, HYDRO LEDUC offers M/MA and MSI motor series ; see our catalogue).
Characteristics and advantages :
MXP series : 25 to 126 cc/rev (according to DIN ISO14),
MXA series : 25 to 63 cc/rev (according to SAE J744),
maximum rotating speed up to 6900 rpm according to the model,
maximum operating pressure up to 400 bar continuous and 450 bar peak,
can rotate in either direction of rotation (CW or CCW),
can be used in all mounting positions,
suitable for intermittent duty cycle.
Applications :
sewer-cleaning trucks : water pump drive, vacuum pump,
high pressure water-pumps,
mobile applications,
agricultural machinery.