Spherical accumulators AS
Description of the product :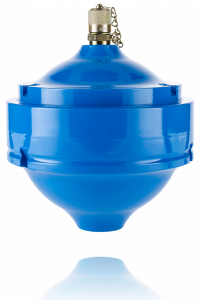 The LEDUC spherical accumulators (AS-AC) consist of two hemispherical shells screwed together and holding a diaphragm. This diaphragm has a metal stud which closes off the fluid pat when the fluid is completely drained: any risk of damage to the diaphragm is thus avoided. The gas-side port is fitted with a charging valve to control the nitrogen pressure in the accumulator.
Characteristics and advantages :
useful volumes from 0.02 to 10 litres,
max. pressure 400 bar depending on the model,
extreme operating temperature as standard : -20°C to +120°C (depending on the diaphragm),
different types of elastomers for the diaphragm NBR-FKM-EPDM,
suitable to different types of fluids on request,
on request, ARCOR® anti-corrosion treatment or painting.
Applications :
industry,
marine engines.