Description of the product :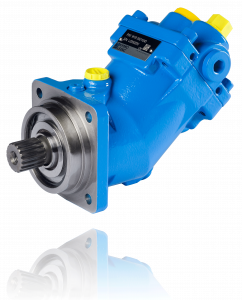 The W/WA pumps have been developed to meet the needs of both the industrial and the mobile hydraulic market.
The W series (ISO version) is available in displacements from 5 to 180 cc/rev.
The WA series (SAE version) is available in displacements from 12 to 180 cc/rev.
Characteristics and advantages :
high efficiency,
high speed (from 150 to up to 3000 rpm depending on the model),
max. pressure up to 400 bar continuous (450 bar peak) while maintaining a high global efficiency and low noise level,
self-priming and self-suction,
FKM seals as standard (NBR as an option),
7 piston technology to reduce pulsations,
available with keyed or splined shaft,
speed sensor as an option on request.
Applications :
hydraulic power pack,
power supply units for machine tools,
public works equipment,
drilling equipment,
hydromechanically controlled machines etc…
For the dimensions or for the type of shaft (keyed or splined) please consult the W pump catalogue.
For the SAE version (Pompe WA) please consult.