Welded cylindrical accumulators ACS(L)
Welded cylindrical accumulators - Construction equipment - Materials handling equipment - Industry - Agricultural machinery
return to the previous page
Description of the product :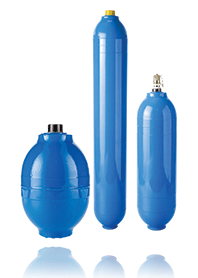 Using bladder-diaphragm (designed for working pressures up to 330 bar), these hydropneumatic accumulators represent a particularly attractive solution for mobile applications. Available for useful volumes from 0.7 to 4 Litres, the ACS(L) accumulators series are available as standard version for operating temperatures between -20°C and +100°C, and in "low temperature" version from -40°C to +100°C. All these accumulators are equipped with screw or charging valve, allowing verification and charging by the customer, but can also be supplied with a charging pressure P0 according to the customer's request.
Characteristics et advantages :
useful volume from 0.7 to 4 litres,
max. pressure 250 or 330 bar depending on the model,
extreme operating temperature as standard : -20°C to +100°C (NBR),
«low temperature» version -40°C to +100°C (HNBR),
long service life in number of cycles (by its bladder-diaphragm design),
high operating ratio.
Applications :
construction equipment,
equipment handling,
agricultural machinery,
shock absorber,
energy storage, pulsation clamper,
thermal expansion.