XAi series pump (SAE version)
Description of the product :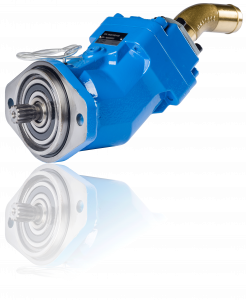 Of the same design as the XPi pumps, the XAi fixed displacement pumps are with SAE flange and shaft and are available in displacements from 18 to 63 cc/rev.
Characteristics and advantages :
flange according to SAE B (2 bolts, or 4 bolts) –US version,
models from 18 to 63 cc/rev.
operating pressure 380 bar continuous and 420 bar peak,
max. speed of 2300 to 2650 rpm,
7 pistons,
compactness allowing installation in environments where space is very limited (PTO),
automatic setting of pump direction of rotation (pump can be used CW or CCW),
easier installation and start-up,
suitable for engine PTO (with by-pass valve).
Applications :
truck equipment (examples : truck cranes, forestry cranes, hook lift, skip loader, stabilization cylinders),
snow and ice equipment (examples: spreaders, snow blades, turbines),
fire trucks,
military.