Variable displacement pump
with constant torque control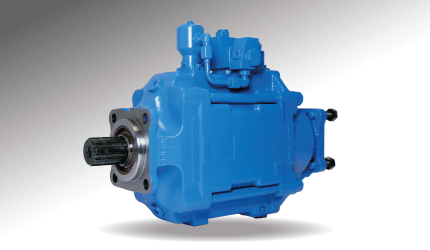 ENTIRE RANGE OF VARIABLE DISPLACEMENT PUMPS NOW AVAILABLE WITH CONSTANT TORQUE CONTROL
With extensive experience in the design and manufacture of variable displacement pumps for the truck hydraulics market, HYDRO LEDUC has understood the current market need to optimise the power available on the truck, for use of equipment such as cranes or refuse compactors.
Constant torque control means the pump regulates continuously to maintain Pressure x Flow = constant.  This functions therefore as a power limiter, avoiding risk of stalling the engine during operation.
The entire range of HYDRO LEDUC TXV variable pumps, from 40cc/rev. to 150cc/rev., and including the through shaft models, can now be supplied fitted with a compact constant torque device.  These are factory set at the maximum required torque level – between 90 and 700Nm depending on models – but can be fine tuned once installed on the vehicle via an adjustment screw.
Rapid response time to increase flow is assured.