Description of the product :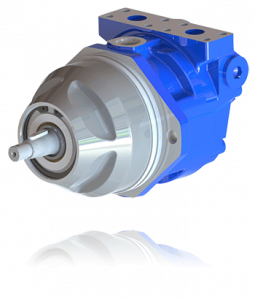 The MT 45 is an in-line piston motor.
Its « semi-integrated » design makes it very compact.
Equipped with a conical keyed shaft, it is optimal for mounting on fan drive.
On request, the MT 45 motor can be fitted with an anti-cavitation valve, and with an integrated pressure relief valves, thus further reducing size envelope of the function.
Characteristics and advantages :
displacement of 45.1 cc/rev,
maximum continuous speed of 4000 rpm,
continuous maximum pressure of 280 bar, and 300 bar peak,
dual direction of rotation,
available options : anti-cavitation valve + integrated pressure limiter (different settings on request),
semi-integrated – ISO.
Applications  :
fan drive,
construction machinery and equipment,
agricultural machinery.