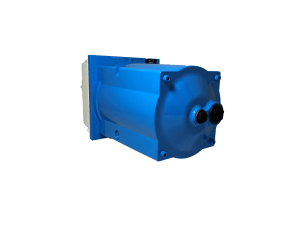 Description of the product :
Particularly suitable for hydrid vehicles, the GEP is easy to use, compact and light.
The GEP7.3 Power Pack unit consists of a brushless DC electric motor, a variable speed drive and a hydraulic pump with radial pistons. The oil circulation inside the unit provides optimal cooling of the motor and allows continuous operation. It can also be submerged (without the variator) in the oil tank.
The flow/pressure curve can be programmed on demand to match the electrical power available in your application via a CAN BUS or a simple potentiometer.
Multiple GEPs can be connected together to provide greater flexibility.
Characteristics and advantages :
displacement: 7.3 cc/rev,
maximum pressure: 330 bar,
voltage of 24 and 48Vdc,
variable speed between 300 and 3500 rpm,
maximum continuous power: 14 Kw,
weight: 27 kg.
Applications :
truck equipment,
construction equipment,
industry.
See the product in video ! (1) Hydro Leduc – Electro Leduc : Animation Video of our New Powerpack – YouTube