Description of the product :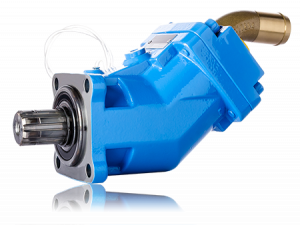 Bent axis XPi pumps are specially designed to meet the needs of truck equipment. Their compact design allows a direct flange-mounting on the PTO. All models are of 7 piston design to ensure optimal flow regularity, and can withstand continuous working pressures up to 380 bar and 420 bar peak.
These bidirectional pumps require no user intervention to change the direction of rotation (simple switching of the inlet fitting). Available in displacements from 12 to 130 cc/rev, HYDRO LEDUC offers the most extensive range of fixed displacement truck pumps on the market. Suitable inlet fitting supplied with the pump.
Characteristics and advantages :
flange according to DIN ISO14 (DIN 5462),
models from 12 to 130 cc/rev.
operating pressure 380 bar continuous, and 420 bar peak,
max. speed 1750 to 3150 rpm
compactness allowing installation in environments where space is very limited (PTO)
automatic setting of pump direction of rotation (pump can be used CW or CCW),
easier installation and start-up,
suitable for engine PTO (with by-pass valve).
Applications :
truck equipment (examples: truck cranes, forestry cranes, hook lift, skip loader, stabilization cylinders),
snow and ice equipment (examples: spreaders, snow blades, turbines),
fire trucks,
military.