MSI series motor (semi-integrated)
Fixed displacement hydraulic motors - Construction equipment - Agricultural machinery - Marine applications
return to the previous page
Description of the product :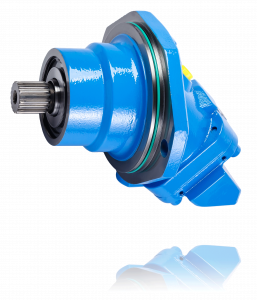 Hydraulic motors are of bent axis design with a 40° angle, they combine high performance and reduced size envelope.
MSI motors offer a valid choice for applications with displacement from 28 to 180 cc/rev, in a reduced size envelope.
The « semi-integrated » (cartridge) design, means MSI motors can reduce the size of the assembly.
MSI series piston motors are designed for fixed and mobile applications, and can be used in either closed or open loop systems.
Operating pressures of these motors are up to 400 bar continuous and 450 bar peak, maximum rotation speeds from 3400 to 6300 rpm depending on the model.
MSI motors are delivered as a standard with splined shaft (keyed shaft on request).
Several A and B port options are possible, to allow interchangeability with the products already used.
Characteristics and advantages :
high efficiency,
ISO 3019-2 – semi-integrated,
displacements of 28 to 180 cc/rev,
continuous maximum speed up to 6300 rpm according to the model,
maximum operatingpressure of 400 bar continuous and 450 bar peak,
speed sensor and flushing valve as options.
Applications :
construction machinery equipment (for example : transmission, vibro hammer),
forestry engines (mulcher, harvester head…),
agricultural machinery,
heavy winches,
mining equipment,
planetary gear.
For the dimensions and the order code system, please consult our MSI series motors catalogue.